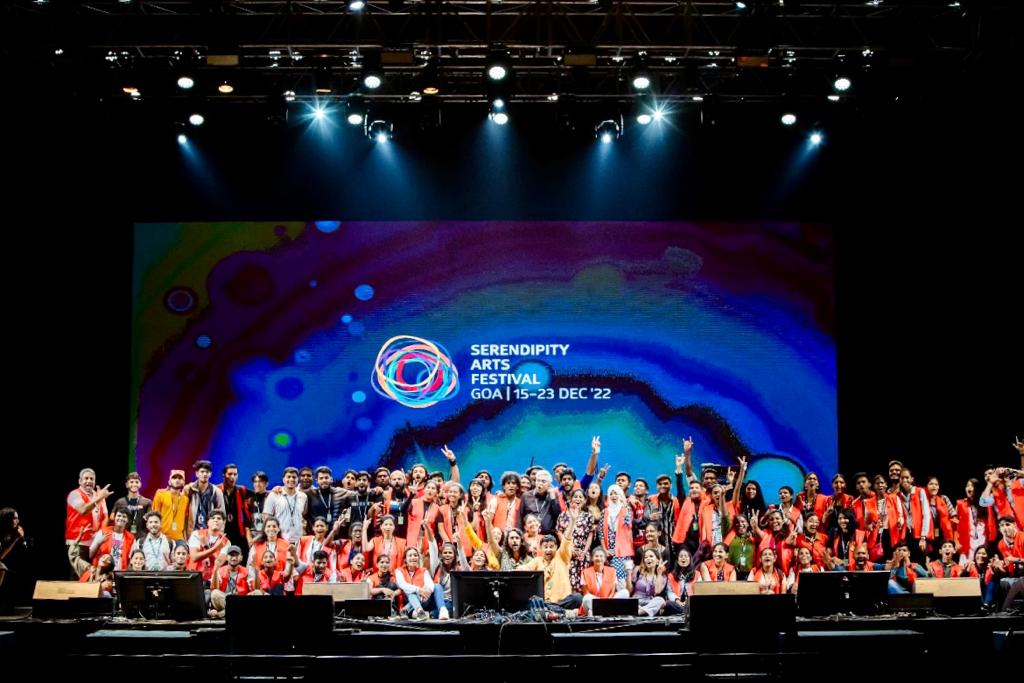 Who can volunteer?
We're looking for enthusiastic, hardworking, and dedicated applicants.
You must be 18+ years as of 1st December 2023.
You must have double vaccination for Covid.
Knowledge or interest in the arts is preferred, but not mandatory.
Knowing multiple languages is a bonus.
You must share an updated CV.
You must have a PAN card.
incentives
Volunteers will be given Rs. 1000 per diem for expenses along with evening tea, snacks & dinner (optional).
Volunteers will receive a certificate at the end of the festival commending their efforts.
Please note that travel and accommodation will not be provided by Serendipity Arts.
process
Candidates willing to volunteer at Serendipity Arts Festival from December are required to register on the website.
The Serendipity team will Interview the shortlisted candidates. These interviews are necessary because they provide a dynamic platform for assessing candidates beyond their resumes. Through interviews, we will gauge a candidate's qualifications, interpersonal skills, problem-solving abilities, and overall fit. The face-to-face interactions will enable a comprehensive evaluation that goes beyond what can be conveyed on paper, helping us make informed decisions about hiring.
Shortlisted candidates will be informed about their selection over email with details about their reporting and deployment at the Festival.
All selected candidates will undergo induction & orientation training before the Festival. A POSH (Prevention of Sexual Harassments at Workplace) training will also be imparted to all the volunteers before they hit the ground.
Following the induction, volunteers will see their location and meet their venue manager for further duties.
Everyday attendance will be marked at the venue of deployment by the supervisor/manager. The volunteer will be eligible for Per Diem only for the days they are marked present. The volunteer can inform their supervisor if they would like to eat dinner a day in advance, as fulfilling requests on the same day will not be possible.
deadlines
Candidates wiling to volunteer at Serendipity Arts Festival 2023 are required to register on the website with all their details by 30th September.
Shortlisted candidates will be interviewed over call and in-person by the Serendipity team by 31st October.
Candidates willing to travel to Goa for volunteering will need to share their travel confirmation details with the SAF team by 15th November.
All final candidates will be informed by email on 20th November.
Volunteer Application Form